Momotaro Jeans Jean Style Tote Bag A4 Men's Casual Japanese Denim Bag B-11-S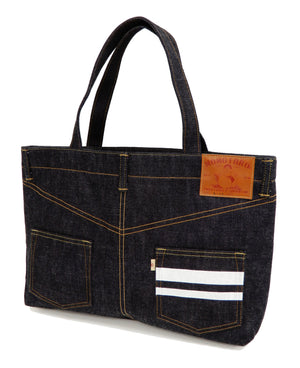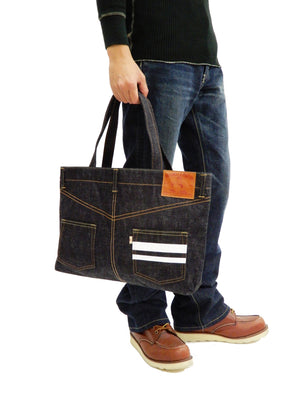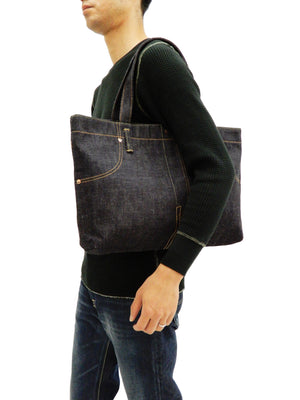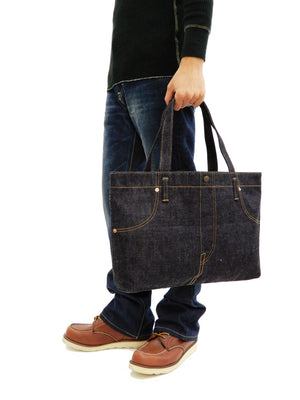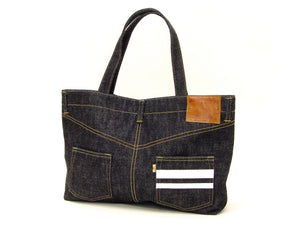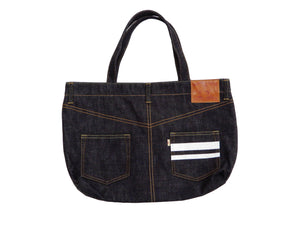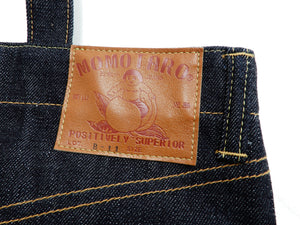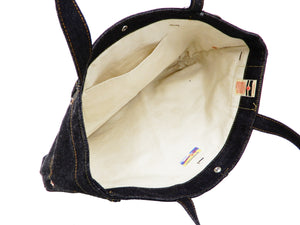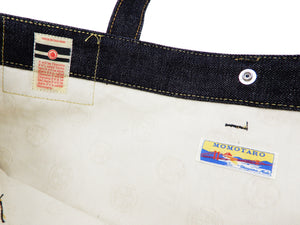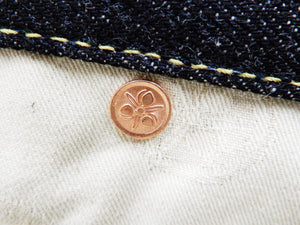 Momotaro Jeans Jean Style Tote Bag A4 Men's Casual Japanese Denim Bag B-11-S

This Tote bag is made in Japan and produced by Momotaro Jeans. This Momotaro's bag is basically like a pair of Jeans with Handles. The bag has two exterior usable rear patch pockets. Aloso this bag has been embellished with the belt loops, rivet, painted Going to Battle stripe on right side rear pocket, rear yoke construction, and the branded Momotaro natural sheep leather patch. The front design of the jeans and belt loop are decorative design and not practical. The interior is fully lined with the same custom-branded cotton fabric in off white used for pocket bags. A top button from the button fly is actually the snap closure for when you want to keep your stuff private.

Size : Exterior Dimensions : 16.1"H x 11.4"W x 3.1"D (410mmH x 290mmW x 80mmD).

Handle Length : 20.0" (510mm).

Weight : 400g.

Gender : Men or Unisex.

Our model is 175cm/5'9″tall, 61kg/134lbs and 91cm/36" chest.

Style : Casual Bag. Tote bag.

Material : 100% Cotton 15.7oz Japanese denim. It is a deep blue natural indigo denim.
Storage : One main snap closure compartment with 1 interior pocket. The bag has two exterior usable rear patch pockets.

Other details : This bag is produced to create unique bags as part of Momotaro Jeans collection. Inspired by jeans styles, new original designs are made for the modern age. It is A4 size correspondence, ideal for shopping use. Versatile bag with room for all your essentials - Perfect for daily use or as carry on luggage. *Since this item is dyed, it's prone to crocking, or color transfer, so wear (and wash) it with dark colors till it's worn in.


Made in Japan.
Brand-new, new condition with tags.
*All measurements are taken with the garment flat on the ground.
*Please understand that measurements may vary somewhat.
*Note that actual color may be slightly different from one in the photo.

---

Momotaro Jeans is a modern denim label established in 2006, based in Kojima, Okayama, Japan, where is the birth place of Japanese domestic jeans.

And its focus is on the reproductions of iconic vintage American military, motorcycle, and workwear clothing and accessories, and other items with 1950s fashion motifs (symbolic garments made during the golden ages of 1950's America).

Featuring American vintage style patterns and designs, the lineup includes pieces in Japanese sizes and silhouettes with the materials and details that have been enhanced with modern casual styles for today's tast.

Momotaro Jeans's products are introduced Japanese elements into american casual clothing making.

Momotaro Jeans's products are made and designed in Japan, but their inspiration comes from the American spirit from the 1950's-70's.

The items are produced to give added casual style for wear in urban settings and use in town.

Model name : B-11-S Momotaro Jeans by Japan Blue Men's Casual Daily Tote Bag with Shoulder Length Handles and Outside Open Pocket for Men / Denim pants look handbag with top button Fastening for Men.
How to measure the clothing
Garment measurements ( Not body measurements )
How to measure the clothing
Body Width (Half Chest)
Lay the clothing flat and measure 3 cm under the armhole. Measure from side to side

Body Length
Lay the clothing flat and measure from base of collar seam (excluding collar) down to the end of the hem

Sleeve Length
Lay the clothing flat and measure from center back of base of collar seam to the end of the cuff

Shoulder Width
Lay the clothing flat and measure shoulder seam to shoulder seam



Lay Jeans/Pants flat, face up and do not stretch or pull fabric.

Waist
Measure flat across the back waistband from one side to the other with the natural dip. Double the number to get actual waist size.

Inseam
Measure from the crotch seam to the bottom of the leg on the inside seam.
If you are unsure of the size to order, we will assist you. Please contact us by e-mail ( rodeo@mbf.nifty.com ) with the following information : Height, waist circumference measure, chest circumference measure, body weight, (and type of clothing to be worn beneath the jacket most of the time), as well as the type of fit you prefer : Trim, roomy or oversized.