TOYS McCOY Leather Sling Bag Men's Casual USAF Military Style TMA1606 Brown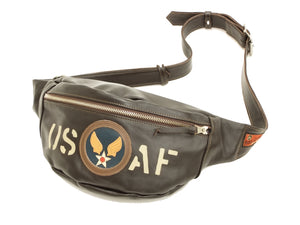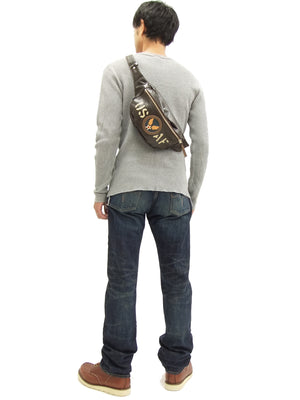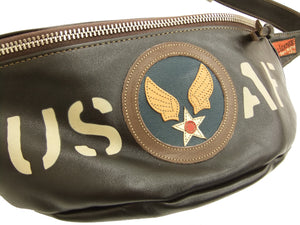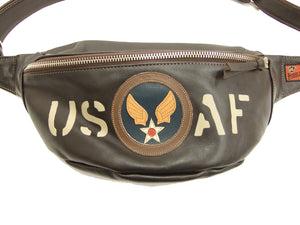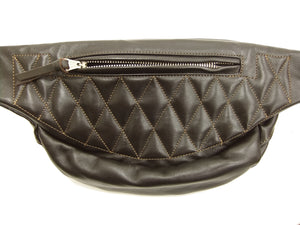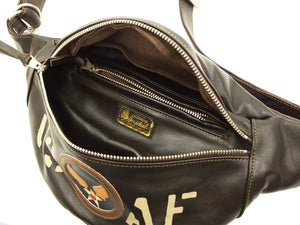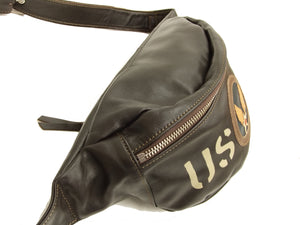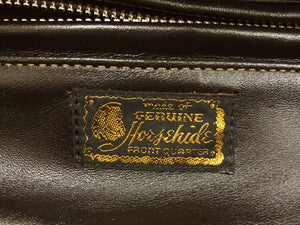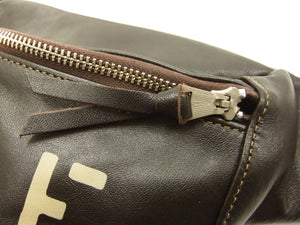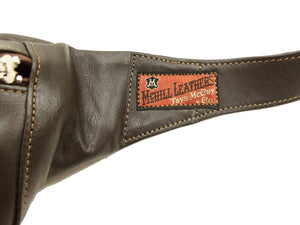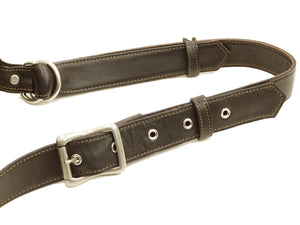 This leather sling bag is made in Japan and produced by TOYS McCOY. TOYS McCOY is a Japanese clothing brand established in 1996 by Hiroshi Okamoto, based in Tokyo, Japan. TOYS McCOY's products are introduced contemporary elements into american classic and vintage clothing making. This leather crossbody bag is outfitted with TOYS McCOY's brand own detailing and design in a contemporary approach. With the inspiration from classic military style, this item has been re-designed for a more casual look and fashion purpose. This leather crossbody chest bag is made of 100% pure genuine horsehide leather. Also this custom leather bag is decorated with the leather patch and printing inspired by the United States Armed Forces Military. The patch and printing on this bag are based on the USAF. This handy small sized bag is perfect for holding a small personal items. This small sized bag is easy to carry and designed for folks on-the-go. Tiny and versatile bag with minimal room for your essentials - Perfect for daily use. The bag is convertible for use as crossbody chest bag, crossbody backpack, waist pouch, hip bum bag, mini crossbody shoulder bag, shoulder backpack, crossbody bag, sling bag. This item is new original creations by TOYS McCOY.

Gender : Mens or Unisex.

Our model is 175 cm/5'9″tall, 59 kg/130 lbs and 91 cm/36" chest.

Size : Exterior Dimensions : Approx. 6.3"H x 11.0"W x 3.9"D (16cmH x 28cmW x 10cmD)

Strap : Adjustable leather strap with a buckle. One size fits most with adjustable strap for length.

Weight : 490g.

Material : Made with 100% pure thick horsehide leather in brown color. Vegetable and chrome combination tanned, pigmented genuine horsehide shell for a firm-yet-supple hand. Rugged-grain and old-fashioned appearance on the face of the fabric for the fashionable vintage feel and look. This heavyweight real leather combines the durability and the natural softness for comfort to wear. The horsehide is even tough, yet it remains pliable.

Storage : One main zipper closure compartment. One main zippered compartment has 1 interior zipper pocket. One extra hidden rear zippered pocket. Each zip sliders have leather tabs, so you can easily grip it.

Style : Mens Casual Bag.

Other details : Quilted leather back pad for comfortable. Strap is Non-removable. Perfectly suitable for use as a field bag or book bag to carry your phone. It is can used as a chest pack, shoulder bag, messenger bag, travel bag.


Made in Japan.
Brand-new, new condition with tags.
*All measurements are taken with the garment flat on the ground.
*Please understand that measurements may vary somewhat.
*Note that actual color may be slightly different from one in the photo.

How to measure the clothing
Garment measurements ( Not body measurements )
How to measure the clothing
Body Width (Half Chest)
Lay the clothing flat and measure 3 cm under the armhole. Measure from side to side

Body Length
Lay the clothing flat and measure from base of collar seam (excluding collar) down to the end of the hem

Sleeve Length
Lay the clothing flat and measure from center back of base of collar seam to the end of the cuff

Shoulder Width
Lay the clothing flat and measure shoulder seam to shoulder seam



Lay Jeans/Pants flat, face up and do not stretch or pull fabric.

Waist
Measure flat across the back waistband from one side to the other with the natural dip. Double the number to get actual waist size.

Inseam
Measure from the crotch seam to the bottom of the leg on the inside seam.
If you are unsure of the size to order, we will assist you. Please contact us by e-mail ( rodeo@mbf.nifty.com ) with the following information : Height, waist circumference measure, chest circumference measure, body weight, (and type of clothing to be worn beneath the jacket most of the time), as well as the type of fit you prefer : Trim, roomy or oversized.