Buzz Rickson Pea Coat William Gibson Men's Wool Overcoat Peacoat BR12394 Black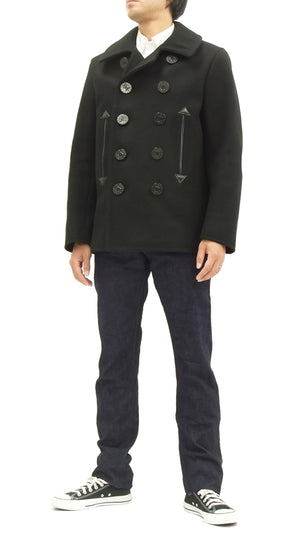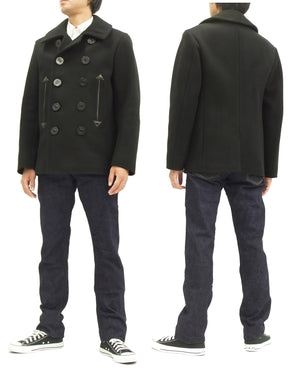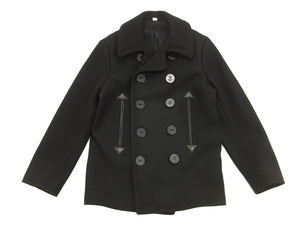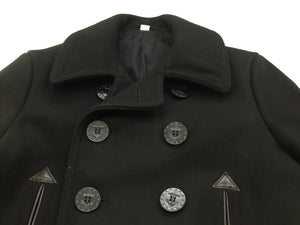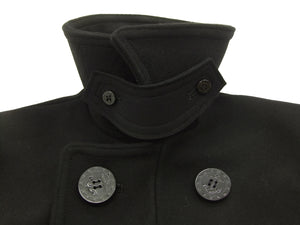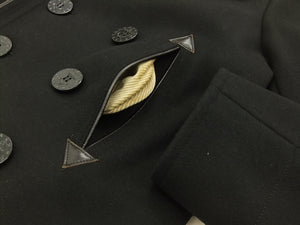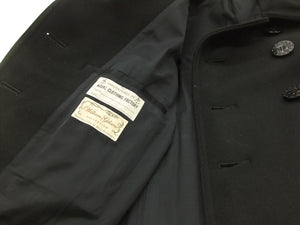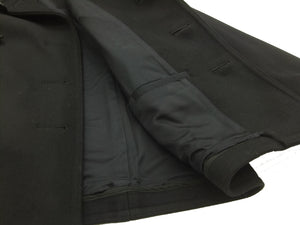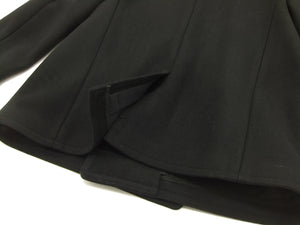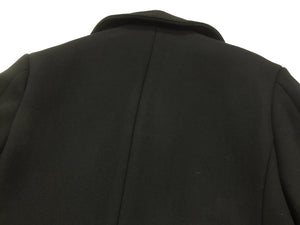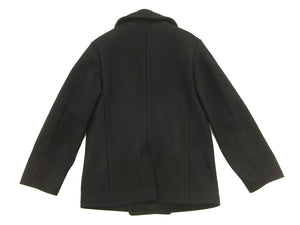 Buzz Rickson William Gibson Men's Pea Coat Black Wool Overcoat BR12394

This William Gibson pea coat (Enlisted short double-breasted overcoat) is made in Japan and produced by Buzz Rickson from Toyo Enterprises. Buzz Rickson has reproduced USN Wool Pea Coat. Also original navy blue color has been replaced by black color.

Gender : Men.

Fit : This product is Japan size (Asian size), which tends to run slightly smaller than US and EU standard size. As a guide, Tagged size Japan 38 would fit better on a US/EU S-M/36-38. And this jacket is cut to wear as a regular fit (not too slim or not too loose) for a variety of layers with light layers such as T-shirts to heavy layers such as hoodies or sweatshirts underneath. Buzz Rickson has made the fit more modern styles compared with vintage examples, making it more fashionable for casual look. Please also refer to the following actual measurement of the garment itself to choose the right size. Fits may vary by style or personal preference.

Our model wears a tagged size Japan 38 and is 175 cm/5'9″tall, 59 kg/130 lbs and 91 cm/36" chest. He normally wears size US/EU S/36.

Sizes available.

・Tagged size Japan 38 : would fit better on a US/EU S-M/36-38

・Tagged size Japan 40 : would fit better on a US/EU M-L/38-40

・Tagged size Japan 42 : would fit better on a US/EU L-XL/40-42

・Tagged size Japan 44 : would fit better on a US/EU XL-XXL/42-44

The following provides approximate garment measurements. (Not body measurements)
Please compare actual garment measurements of our product to another you may own.

・Tagged size Japan 38(US/EU S-M/36-38)__Width: 20.1"__Length: 29.1"__Sleeve: 30.7"__Shoulder: 17.7"
・Tagged size Japan 40(US/EU M-L/38-40)__Width: 20.9"__Length: 29.9"__Sleeve: 31.9"__Shoulder: 18.5"
・Tagged size Japan 42(US/EU L-XL/40-42)__Width: 22.0"__Length: 30.7"__Sleeve: 32.7"__Shoulder: 19.3"
・Tagged size Japan 44(US/EU XL-XXL/42-44)__Width: 22.8"__Length: 31.5"__Sleeve: 33.9"__Shoulder: 20.1"


Lay the clothing flat and measure 3 cm under the armhole. Measure from side to side.

Made in Japan.
Brand-new, new condition with tags.
*All measurements are taken with the garment flat on the ground.
*Sleeve length is taken from the center back of the neck.
*Please understand that measurements may vary somewhat.
*Note that actual color may be slightly different from one in the photo.

---

Outer shell : Fabricated from Heavy-weight, 36-ounce, melton-wool outer shell in black. Made with a blend of 90% wool and 10% nylon melton fabric. A thick and robust melton napped fabric. The dense melton wool is durable and retains warmth. The melton wool combines the durability and the natural softness for comfort to wear.

Lining shell for body and sleeves : Fully lined, A blend of 57% Cotton and 43% Rayon Satin Lining. The lining is smooth and sleek so you can take the jacket off and put it on easily.

Type of insulation : No fill. There is no internal batting, so the jacket is not bulky or puffy. Fabricated from a thick and robust melton napped fabric, suitable for mild or colder winter.

Placket type : 10 button front closure in pea coat style ( A single row of five anchor buttons ). The fronts are designed to fold over each other (double-breasted) and close with bakelite buttons. This design protects the wind from slipping through the front. Buttons are Mil Specs Urea Early USN type 13 stars anchor buttons.

Button type : Black bakelite buttons displaying an anchor surrounded by 13 stars; the 13 stars were derived from the original 13 states when the United States became an independent nation and broke its ties to England in 1776.

Collar type : The large-sized notched collar of the coat was designed to block strong ocean winds. The collar has a removable neck strap (Storm Flap Underneath Collar) to make fastening easy with a button. You can pop the collar to further protect from the cold. Concealed buttons under the collar fastens across the neck when the collars of the jacket are upturned. It is used to protect the wearer from wind or dust. You can also hide a neck strap (a chin strap, a throat tab) when not in use using a button inside. Two small anchor buttons concealed under the left side collar to keep the throat latch in place.

Back type : This pea coat has two large back panels with a centre seam and with vents at the bottom.

Cuff type : Unbanded cuffs for full range of motion.

Storage : Two external vertical-side-entry hand warmer slash pockets lined with corduroy with black-color leather piping and arrowhead reinforcement on pocket edges. The side slit pockets are vertically located as a hand warmer pocket. The corduroy-lined side pockets helped thwart the numbing effect on hands from the biting winter seas. Two interior open-top pocket on inside both side chest.

Style : Mens Casual Fashion / Military Style / William Gibson Collection Black Pea Coat with Slim Fit.

Pattern Type : Plain (Solid color).

Sleeve Style : Set-in sleeves.

Sleeve Length : Long.

Body length : Hip length.

Label : Exact copy of original U. S. Naval Clothing Factory contract label design woven on rayon. And William Gibson labe.

Other details : Historical Timeless Style went together with American USN Pea Coat. A double-breasted, hip length coat made of black wool fabric with a convertible collar, a set-in pocket in each forefront, and a single row of five anchor buttons(the pre-WWII buttons displaying an anchor surrounded by 13 stars) down the right front and five on left. Men's peacoat buttons to the right.

---

WILLIAM GIBSON COLLECTION

Early in 2003, best-selling novelist William Gibson released a groundbreaking new book, "PATTERN RECOGNITION". This absorbing and masterfully crafted novel is set in the period immediately following "9-11", featuring a high-tech, super-hip, cyber-chic, anti-fashion sophisticate, Cayce Pollard, as the heroine. Brilliantly woven within the many pages of cutting-edge prose Mr.Gibson has crafted is the one object more valued by Cayce Pollard than any other she owns-the Black Buzz Rickson's MA-1 Flying Jacket. William Gibson is an author of superior talent and exceptional good taste. Vintage clothing represents an area of personal interest to him, especially wristwatches, US Flying jackets and jeans. He is a great admirer of the goods produced by Buzz Rickson's, which is what provided the inspiration for the fictionalized Buzz Rickson's black MA-1 jacket worn by his central character, Cayce Pollard, in his novel. In the course of writing his novel, Mr.Gibson was aware that no MA-1 jackets were ever produced for the USAF in black but he decided to make the color of Cayce's jacket black, not Sage Green, which is the original color of the MA-1, because Cayce's jacket needed to be black in the creative vision of Mr.Gibson. Today, Buzz Rickson's is proud to introduce the all new William Gibson Collection of Classic Military Jacket Styles produced exclusively in BLACK.
---
---
How to measure the clothing
Garment measurements ( Not body measurements )
How to measure the clothing
Body Width (Half Chest)
Lay the clothing flat and measure 3 cm under the armhole. Measure from side to side

Body Length
Lay the clothing flat and measure from base of collar seam (excluding collar) down to the end of the hem

Sleeve Length
Lay the clothing flat and measure from center back of base of collar seam to the end of the cuff

Shoulder Width
Lay the clothing flat and measure shoulder seam to shoulder seam



Lay Jeans/Pants flat, face up and do not stretch or pull fabric.

Waist
Measure flat across the back waistband from one side to the other with the natural dip. Double the number to get actual waist size.

Inseam
Measure from the crotch seam to the bottom of the leg on the inside seam.
If you are unsure of the size to order, we will assist you. Please contact us by e-mail ( rodeo@mbf.nifty.com ) with the following information : Height, waist circumference measure, chest circumference measure, body weight, (and type of clothing to be worn beneath the jacket most of the time), as well as the type of fit you prefer : Trim, roomy or oversized.