Pherrow's Men's Casual Vintage Style Wabash Stripe Flat Cap Made in Japan SHC1-W Indigo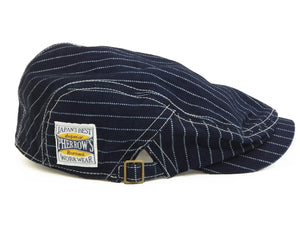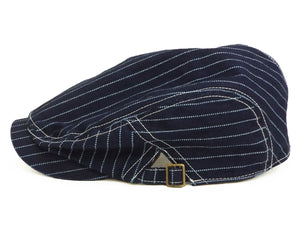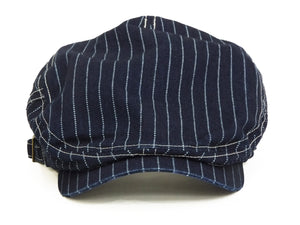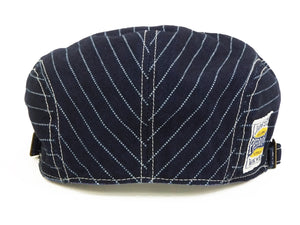 Pherrow's Men's Casual Vintage Style Wabash Stripe Flat Cap Made in Japan SHC1-W

This flat cap is made in Japan and produced by Pherrow's (Pherrows). Body pattern is inspired by vintage working-class hats. Also this flat hat is made of 100% Cotton Wabash Stripe Fabric. New original designs are made for the modern age.

Gender : Men.

Size : One size fits most with an adjustable side buckle for you to change its size according to your head circumference. Fitting up to head measurement appox 61cm (24 inches).

Fit : Low profile fitting with a short pre-curved visor.
Style : Mens Casual Fashion. Vintage Style.

Material : Made of 100% cotton. Wabash stripe is printed fbric with a dotted stripe pattern on the face. It is more breathable and comfortable and it is high density and extremely durable.

Visor Type : A short pre-curved bill. A small stiff brim in front.

Closure Type : Adjustable side buckle belt closure.

Other details : Brand label on right side. 2 row stitched on the sweatband. Inside seams are covered with cotton taping.


Made in Japan.
Brand-new, new condition with tags.
*Please understand that measurements may vary somewhat.
*Note that actual color may be slightly different from one in the photo.

---

Pherrow's (Pherrows) is a casualwear brand founded by Shimura ltd. in 1991 in Tokyo, Japan.

And its focus is on the reproductions of iconic vintage American military, motorcycle, and workwear clothing and accessories, and other items with 1950s fashion motifs (symbolic garments made during the golden ages of 1950's America).

Featuring American vintage style patterns and designs, the lineup includes pieces in Japanese sizes and silhouettes with the materials and details that have been enhanced with modern casual styles for today's tast.

Pherrow's (Pherrows) products are made and designed in Japan, but their inspiration comes from the American spirit.

The items are produced to give added casual style for wear in urban settings and use in town.

Model name : SHC1-W Pherrow's (Pherrows) Men's Vintage Style Wabash Stripe Flat Cap for Urban Outfitters / Casual-Wear Fashion Flat Cap / Newsboy Hunting Hat Style / Mens Newboys Hat.
How to measure the clothing
Garment measurements ( Not body measurements )
How to measure the clothing
Body Width (Half Chest)
Lay the clothing flat and measure 3 cm under the armhole. Measure from side to side

Body Length
Lay the clothing flat and measure from base of collar seam (excluding collar) down to the end of the hem

Sleeve Length
Lay the clothing flat and measure from center back of base of collar seam to the end of the cuff

Shoulder Width
Lay the clothing flat and measure shoulder seam to shoulder seam



Lay Jeans/Pants flat, face up and do not stretch or pull fabric.

Waist
Measure flat across the back waistband from one side to the other with the natural dip. Double the number to get actual waist size.

Inseam
Measure from the crotch seam to the bottom of the leg on the inside seam.
If you are unsure of the size to order, we will assist you. Please contact us by e-mail ( rodeo@mbf.nifty.com ) with the following information : Height, waist circumference measure, chest circumference measure, body weight, (and type of clothing to be worn beneath the jacket most of the time), as well as the type of fit you prefer : Trim, roomy or oversized.