TOYS McCOY Men's Necklace Steve McQueen Pendant & chain TMA1617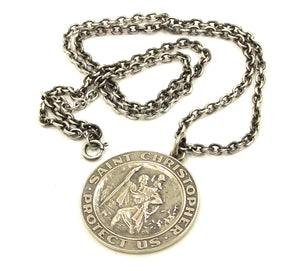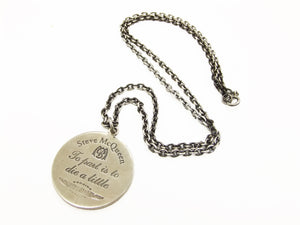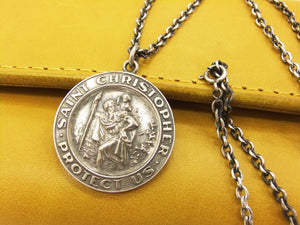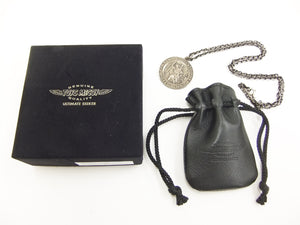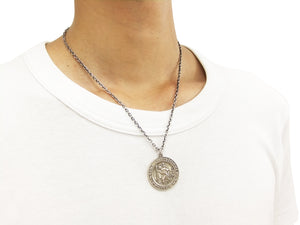 TOYS McCOY Necklace TMA1617 Steve McQueen Men's Pendant & chain


The pendant and chain are made of brushed silver 925.

Pendant dimensions : 30mm ( 1.2 inches ) in diameter x 2 mm deep
Necklace dimensions: 50cm ( 19.6 inches ) long.


"TOYS McCOY" is a Japanese American casual clothing brand founded by Hiroshi Okamoto in Japan.

The brand reproduces vintage wear looks based on old American military, motorcycle, workwear vintage styles with modern silhouettes, materials, and details.

Not just a simple revival of vintage items, the brand draws inspiration from the functionality and beautiful designs of American vintage styles while offering standard Japanese sizes.

The products are customized to give added casual style for wear in urban settings and use in town.

This product is what reproduces the pendant of St. Christopher that Steve McQueen wore even private and movie "The Great Escape"

This product is made by TOYS McCOY under a license from the American Steve McQueen.

This product is not a carbon-copy reproduction of the original thing.
Instead, it's been customized and revamped with a new materials, and details that match today's taste.
The design features a casual taste added that allows it to be worn stylishly out on the town.

*This item has been specially treated to produce a vintage-like effect. Note that this is entirely consistent with the vintage effect and is intentional.

How to measure the clothing
Garment measurements ( Not body measurements )
How to measure the clothing
Body Width (Half Chest)
Lay the clothing flat and measure 3 cm under the armhole. Measure from side to side

Body Length
Lay the clothing flat and measure from base of collar seam (excluding collar) down to the end of the hem

Sleeve Length
Lay the clothing flat and measure from center back of base of collar seam to the end of the cuff

Shoulder Width
Lay the clothing flat and measure shoulder seam to shoulder seam



Lay Jeans/Pants flat, face up and do not stretch or pull fabric.

Waist
Measure flat across the back waistband from one side to the other with the natural dip. Double the number to get actual waist size.

Inseam
Measure from the crotch seam to the bottom of the leg on the inside seam.
If you are unsure of the size to order, we will assist you. Please contact us by e-mail ( rodeo@mbf.nifty.com ) with the following information : Height, waist circumference measure, chest circumference measure, body weight, (and type of clothing to be worn beneath the jacket most of the time), as well as the type of fit you prefer : Trim, roomy or oversized.